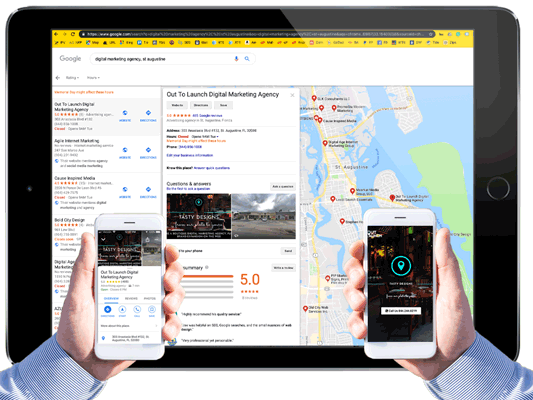 Local search engine optimization strategy (SEO) is essential for any business looking to compete in their local market. Local SEO focuses on securing High ranking positions in a particular regional area demographic or city. By focusing on specific local search engine optimization strategies you can neutralize competition from larger national brands.
Any business looking to compete in their county, city, or local geographic target area radius, needs to implement a sound SEO strategy to avoid missing out on high intent and qualified leads.
Since local SEO strategy is more relevant to your local base of customers, when executed correctly it will help you generate more high-quality traffic, leads, visitors, and conversions.
Here are the Top 6 rules of local SEO:
1. CREATE A GOOGLE MY BUSINESS ACCOUNT AND OPTIMIZE IT
Given that Google is the 800-pound gorilla of search engines, creating and optimizing a Google My Business (GMB) listing Page is critical to the success of your local online SEO strategy.
Once listed with GMB, people looking to discover your business by name, or relevant search phrase, will be able to find you on Google Maps, Google Local, or by performing a search using Google Search Engine without the need to include the city or state in the search. Any potential customer searching for your business whose ISP connection or IP address resides in your local GEO-Target (radius in miles) area will usually show a listing preference for a local business listing above most national brands, provided you are properly optimized.
Optimizing your GMB listing regularly by posting fresh images, special offers, events, or articles, along with regular updates will continue to help your business rank better in search engine results. Google gives high marks to businesses that are active and continuously updating content or attempting to regularly engage with their customers by posting new and relevant content, copy, offers, etc.
This means your business listing will also appear in the sidebar of Google search results in addition to a preferred listing when you search in Google maps or Google local.
Here are some tips for improving your Google my business listing:
Update your GMB listing weekly.
Make sure Business hours, address, phone number, contact information, and website URL are all consistent with your social media listings and your website information.
Be thorough and consistent by providing high-quality, high-resolution logos, images of your business, hours of operation, payment methods, services, and products.
Encourage your customers to add their feedback and ratings.
Be sure to respond promptly to any customer reviews, emails, text, or phone inquiries.
Follow these essential steps to improve your local SEO strategies and generate high-quality leads/visitors to your business.
Optimizing your GMB listing is possibly the most cost-effective way to rank your business higher on Google local, Google maps, and/or Google local search results.
To get access to your Google My Business Profile to make these optimizations, you need a GMB account set up.
2. OPTIMIZE FOR LOCAL SEARCH DIRECTORIES
In addition to Google, there are many other local search directories where users will search for local businesses. Make sure your Business listing is consistent across all local search directories.
Here's a list of the Top 10 Search Directories:
Google My Business
Facebook
LinkedIn
Yellowpages.com
Yelp
Local.com
WhitePages.com
Manta
SuperPages
CitySearch
Since many of these directories often rank high with Google search results for any local search queries, optimizing your listing you not only help improve your organic search traffic but should also help generate more qualified leads.
As mentioned previously, all of your business listings and related business information must be consistent across all search directories, social media pages, and website contact business information. Discrepancies in addresses, phone numbers, business descriptions or contact information will cast credibility issues on your business, resulting in your business receiving a lower quality/confidence score.
3. ENCOURAGE REGULAR BUSINESS REVIEWS FROM CUSTOMERS
While Yelp discourages businesses from requesting customers to provide performance reviews, Google does not. Google encourages you to solicit customer reviews to deliver a better user experience for other potential customers to see. It only makes sense that a business looking to provide top-notch customer service and support would proactively solicit feedback from its customers.
Here are some tips to encourage customers to leave reviews without bias:
Ask customers to provide a review in person after a sale is completed.
Provide a simple, safe, online access method for customers to leave follow up reviews in privacy.
Send a post-purchase email or text reminding customers to write a review.
Always be professional when responding by first thanking them, then professionally addressing their complaints or feedback.
4. OPTIMIZE YOUR WEBSITE FOR LOCAL SEARCH PHRASES AND KEYWORDS
It is important that your website content or copy includes keywords and search phrases embedded in your content that are relevant to your local customers. What this means in layman's terms is keyword stuffing is no longer acceptable and will result in your website pages receiving a low-quality score. The best way to make sure keywords and search phrases embedded in your copy and used to find your business services and products are relevant, make sure they are readable, and intelligently included in descriptions and or copy about your products and or services.
When writing website product or service descriptions it's important first to harness a keyword tool to find a list of the most most popular relevant keywords or search phrases that best describe your business services or products. The goal is to provide you the best chance to get found and rank well for the first-page search results.
You can use Google's Keyword Planner, or any number or other keyword tools to find relevant, local keywords using location filters. These keyword tools can help you identify popular and relevant local keywords for you to target.
Make sure when creating a list of popular keywords and search terms that you select relevant keywords that have less competition. A common beginner mistake is to choose popular high-traffic, high-volume keywords while ignoring the fact that these are also highly competitive and difficult to rank for. A better option is to choose high-quality relevant keywords that have fewer competitors trying to rank for them.
Once you have created a list of local keywords or search terms, you should integrate them into your site content or copy, titles, tags, URLs, making sure of course that they are relevant and properly describe your products and services.
5. OPTIMIZE YOUR WEBSITE FOR MOBILE
According to the latest statistics, approximately 78% of all local searches are performed using mobile devices. Additionally, it's important to include natural search language in your content since many Mobile users are now relying on Siri and Alexa to perform their searches for them. For example, a common natural language search phrase you may want to include in your website if you own a 'NY Style Pizza' joint might be, "Siri, find the closes NY style Pizza place that delivers". In this case, embedding the phrase, "NY Style Pizza that delivers" in your website content, would be helpful for local search optimization.
A well-designed responsive website adapts well to any size device, platform, or Internet connectivity. Your website should adapt and perform as well visibly on Full-Width flat screen desktop, iPad device, and/or any size mobile screen. It's as important that the site adapts not just to screen size but is also speed optimized for mobile network bandwidth. A well-designed responsive website should load in three seconds or less regardless of the device, provided you have reasonably good Wi-Fi or 4G.
Using a good responsive website design will give you an edge over your competitors and can also improve your local SEO strategy, as Google grades your site on user experience, which includes not just responsive page designs, but speed.
Here are a few pointers to create a well-performing mobile-responsive website:
Reduce image file sizes to optimize page load times
Organize and layout your website so visitors can easily navigate and find the information they are looking for.
Make sure your website architecture and hosting environment can maintain fast loading pages (3 seconds or less is optimal). Page load times are important and Google will penalize you for slow loading pages.Make it easy to connect to your Social Media Pages from your website, to add credibility and increase exposure and engagement.
6. LEVERAGE YOUR SOCIAL MEDIA PRESENCE
Social Media can have a tremendous impact on your website's search engine results when properly leveraged.
Developing a credible social media presence helps promote your brand as reliable, and trustworthy. Additionally, a strong following can provide a positive viral influence via sharing for your brand on the web.
A common mistake is to promote on social media without driving visitors to your website pages. While it is fine to share and repost some articles, posts, or social content that does not drive visitors to your website, you should create credible original relevant content, post it on your website first, then re-post it on your social media pages. Those unique blog posts should be posted on social media with a "Read More, Learn More, Read On", link, etc, and the active link should take the reader from your Social Media page to your website blog post. This will drive more visitors to your website, where hopefully they will engage with other pages and spend more time reading. More visitors, spending more time, viewing more pages equals better quality scores from Google. The goal here is to improve your positioning on search results (first page) and the only way that happens is with Google's approval.
Always post articles relevant and useful to your followers. If your content is interesting and engaging, your audience is more likely to share it on their social networks.
Social Media is a great medium to promote your business brand, products, philosophy, and approach to business. When managed properly it is an invaluable tool for growing a strong network of followers that can help to in turn promote your business for you.
Google My Business (GMB) listing is also a part of your social media strategy and needs to be included when you are posting articles, special offers, coupons, or important news. Regular postings to GMB will keep your local business listing near or at the top of the Local first-page search results for the keywords or phrases highlighted or featured in your posts.
Final thoughts
SEO is a constantly evolving target. Keep an eye on the recent SEO trends, as updates to SEO strategy are never-ending, and must be regularly re-examined to be sure you are up to date.